As per JLL's research on Residential Market, dated May 10, 2021, in Q1 2021, recovery in the residential market continued to grow. Sales of residential units increased by 17%, and new launches increased by 27% across the seven key markets under consideration. This portrays the scope of growth in the real estate industry in India.
Overview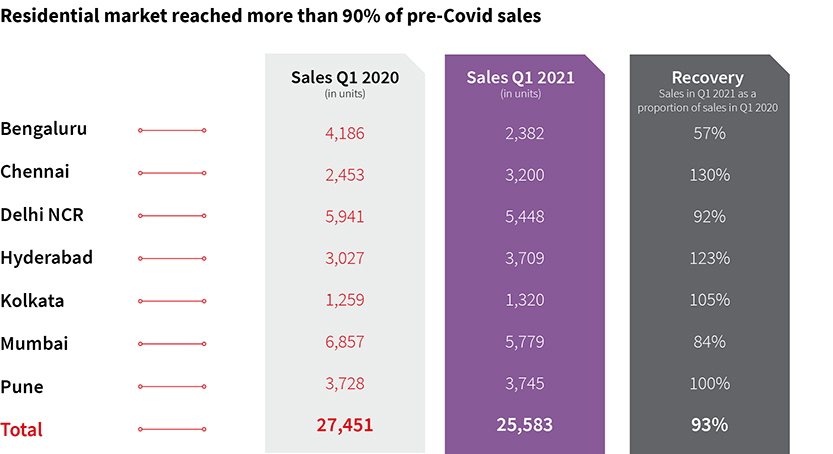 Example 1
To understand the growth of the Real Estate Industry, let's look at a realistic example of Pune City's Residential Market. Here, price trends give a clear indication of growth in the outskirts of the city centre area.
Below is the map of Pune city, showing area-wise distribution of developing locations of the city.

Pune City: Residential Market Price Trends:-
Property Rates /SFT
Area / Year
2006-2010
2011-2015
2016-2021
Ravet
2600
5060
5645
Punawale
2400
4750
5500
Wakad
3135
5475
6600
Banner
4250
6340
7700
Shivaji nagar
11250
14100
13020
Koregaon Park
6275
9695
11050
Viman Nagar
3865
6450
8375
Kharadi
3100
5555
7100
Magarpatta
3825
6855
8300
Wagholi
2560
4300
4825

As they say, numbers talk louder than words !
City centre areas like Shivaji Nagar, Baner, Viman Nagar, etc show a decreasing price trend. While, outskirts, like Ravet, Kharadi, Magarpatta, Wagholi, show an upward trend in prices. This indicates huge profits and makes Real Estate as one of the best long term investment options.
Example 2
According to an article in Times of India, dated 9th Aug 2020, Hyderabad sold about 100 premium units between April and June. Statistically, 2019 was more profitable, where between April to June, Hyderabad city sold more than 4000 houses.
Luxury villas located in the city's outskirts – Gopanpally, Narsingi, Gandipet – with price range of Rs. 5 crore to 9 crore witnessed maximum traction.

Conclusion
The increasing population and high demand for housing units in the country has widened the scope for Real Estate Industry in India. It is growing at a faster-than-average rate. Especially in the metro cities, where Work from Home Culture has fuelled the need for more and better homes. Reduced Interest Rates, reduced registration and stamp duty charges and high purchasing power have paved a long and steady road for the residential housing market in India.
In this chaotic Covid-19 situation, the Real Estate Industry has emerged as a Rising Star Performer in the Investment category and has an extensive, bright, and a successful future ahead of it !