How technology is impacting property management?
Regardless of the business and regardless of the job advances in technology are making changes in the manner in which we work – and real estate property management is the same. Property managers are in the phase of building connections, both with their proprietors and tenants. We are there to support the needs of Property Managers. Whether you're working in an office, on-the-go, or looking to streamline financials, we've got you covered.
The positive effect technology has had on property managers is clearly visible. Changes in the manners by which we utilize technology have brought about a more productive, precise and less intrusive property management service offering. Maintenance issues are taken care of through an online system, statements and notices can be received via email, while contacting prospective and current tenants has undoubtedly made it a lot easier.
As the standard of work becomes more balanced due to the changes in technology, the trait that separates great property managers will be their communication skills. Balancing the use of technology to be more efficient will be a challenge for property managers while maintaining and building the relationships that matter. As technology revolutionizes the property management industry, professionals are challenged to meet new expectations. We at Lisa Home Solutions have mastered it.
Everything at your finger tips

Lisa Home Solutions believe in leveraging the customers. We provide all the property related documents, receipts, rent details, service requests, property inspection reports, pictures, property tax details, society charges all under a single roof. Thus it helps in the easier management of everything.
Minimizing communication gap​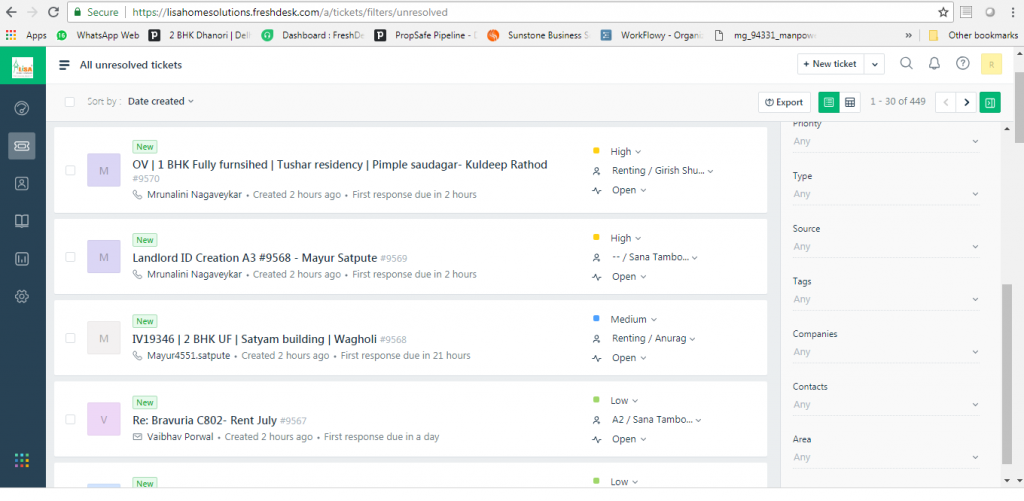 Our customers can enjoy better quality service unlike others Property Management Services. We take care of all of your queries and requests systematically so that nothing is left out and minimizing the communication gap.

We at Lisa Home Solutions have developed our own platform. We believe in transparency in communication, so we have integrated all vendors, local partners, agents etc. to ensure seamless interaction and work flow between the Landlords and the Tenants.
Our property experts can help you choose the right solution for your property management challenge…
Learn how you can join the Lisa Home Solutions brand today!​
or 

 +91-9595220220